Associate Soloist
The Associate Soloist scheme was set up in 2010 with the cooperation of Sheffield University Department of Music. It offers a young singer the opportunity to work with a local choir for a whole year and to receive financial support to further their development towards a professional singing career.
The Associate Soloist scheme is supported by a generous bequest from former choir member Gilly Surr.
2017-18 Tim Peters (tenor)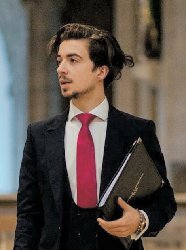 Timothy Peters BMus (Hons) read music at the University of Sheffield and is now pursuing a freelance career as a tenor, choral conductor and composer. He is a tenor lay clerk at Sheffield Cathedral, with whom he has toured internationally, performed live on BBC One, BBC Radio 3, and sung for the Queen and Duke of Edinburgh. He regularly performs in choirs in and around Sheffield, Manchester, Nottingham, Leeds, York, Guildford and London.
Before University, Timothy was the tenor 1 section leader for the National Youth Choirs of Great Britain and sang with the National Youth Chamber Choir. Performing with these choirs gave him the opportunity to sing in prestigious venues across the UK. Further engagements with these ensembles include a number Aldeburgh and live televised BBC Proms performances and several professional recordings.
Since coming to Sheffield, Timothy has regularly performed as a soloist with choirs in the surrounding areas, most recently with: Sheffield Bach Choir (Handel's Messiah); Sheffield Teachers Choir (Maunder's Olivet to Calvary and Stainer's The Crucifixion); The Abbeydale Singers (Orff's Carmina Burana); Bingham Choral Society (Mozart's Vespers and Pergolesi's Magnificat); Escafeld Chorale (Vaughan Williams' Five Mystical Songs, Peters' The Great 'O' Antiphons, Haydn's Missa Brevis No 7, and Schubert's Mass in G Major); Sheffield Oratorio Chorus (Kodaly's Missa Brevis, Britten's Rejoice in the Lamb and songs from Mendelssohn's Elijah); Hallam Choral Society and Hallam Sinfonia (Handel's Messiah); and Bakewell Choral Society and South Yorkshire Symphony Orchestra (Mozart's Vespers and Coronation Mass); in addition to numerous performances as a recitalist this year. Timothy was awarded the University of Sheffield's Julian Payne Recital Prize for obtaining highest marks in first year performance.
As a choral conductor, Timothy directs eight regular choirs in Sheffield including the University's Staff Choir, Octogenesis, the Sheffield Outreach Choir and Sheffield Cathedral's Young Voices. Timothy was also the Associate Conductor for the University's Chamber Choir. As Animateur for the English Touring Opera's Sheffield production of the Bach's B Minor Mass in November, he directed the chorus rehearsals. Timothy is looking forward to a new project after Easter where he will be directing a community choir at a foodbank in Sheffield.
Timothy also composes and has had three commissions this year from Sheffield Cathedral and the University's Chamber Choir. Timothy frequently arranges music for his youth and welfare choirs, often prompted by the members' requests for more pop songs. His new piece Salve Regina was premiered at Classical Sheffield's fringe festival, in March 2018.
Timothy has a passion for outreach projects and has recently led a project in northern Uganda (July-August 2017). 'Northern Uganda SINGS!' saw Timothy travelling around the northern region of Uganda leading choral workshops as a form of music therapy to some of the most remote and deprived communities in the country. Timothy's next large-scale project is Bill Frog to the Rescue. Timothy and composer Nicholas Cox are in the process of writing a secular children's rock opera for next Christmas and it will involve nearly 200 children from underprivileged families around South Yorkshire.
Other interests include trombone performance, jazz piano performance and sampling real ale. Life Aquatic Band, in which Timothy plays trombone, piano and backing vocals, are signed to English Rain Records.
2018-19 Sarah Leffler (soprano)
I'm thrilled to be joining Escafeld Chorale as associate soloist in 2018/2019. I'm a first year music student at the University of Sheffield and I play trumpet and Cornet as well as singing. I've loved singing since being a small child, and I have sung in various ensembles and as a soloist. At university, I join in with as many ensembles as I can, but the position at Escafeld will be hugely advantageous in giving me the chance to sing with such a professional ensemble. I am very grateful to be offered this opportunity.