Ticket Information
To purchase or reserve tickets, contact Ann Kingdom:
Tel: 0114 236 9548 or email
Tickets are available on the door or from members of the choir.
Gallery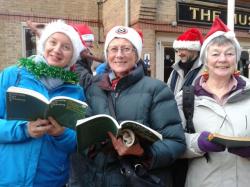 Follow us on

Next Concert
2017
Holy Trinity Church, Millhouses
7:30pm
Including John Rutter's Requiem
With Keren Hadas (soprano), George Parsons (organ)
Overheard in the audience at recent concerts
'You'd be hard-pressed to find a better amateur choir..'; ... a stimulating programme...', '...the Fauré [Requiem] was heavenly...', 'An excellent concert with a lovely variety of music and voices... that was the best I have ever heard Escafeld sing'.
Introduction
We are a mixed choir of around 70 members and have been an established part of the Sheffield music scene since 1969. We sing a wide range of music from the choral repertoire, and are equally at home with full-scale requiem masses and unaccompanied part songs. Browse the website to find out more about the choir.
Vacancies can occur at any time, so if you are interested in joining, please contact our membership secretary via the link on the How to join page.
Associate Soloist 2016-17
Applications have now closed for the position of Associate Soloist for 2016-17. Information about our current and previous soloists here.
Concert dates 2016-17
3 and 6 December 2015: Christmas concerts (our concert on 6 December is in association with the Sheffield branch of the Samaritans)
25 March 2017: Spring Concert: including John Rutter's Requiem.
1 July 2017: Summer Concert - programme to be confirmed
More information at Current season.
If you would like to be added to our mailing list, please email